PRECIA MOLEN has supplied AOSTE for the weighing equipment of its Saint Symphorien sur Coise site
PRECIA MOLEN, the industrial and commercial weighing expert, turned out to be a key partner for the AOSTE food group on its Saint Symphorien sur Coise (69) site, a site essentially dedicated to the Cochonou delicatessen brand. They supplied a comprehensive tailored solution combining I 400 indicators and load transmitters to renew the site's weighing system.
Thanks to its level of expertise, PRECIA MOLEN could automate weighing operations and also ensure the automatic extraction of data to proceed to the weekly required quality checks.
The key role of weighing in top-of-the-range craft manufacturing
The Saint-Symphorien sur Coise (69) has been operating since the 90s. It is the production site for the  Cochonou and Justin Bridou brands, and for supermarket brands. As such, it aims to deliver high-quality authentic products.
Weighing plays a key role in this manufacturing process, particularly by allowing for the determination of the right quantity of ingredients in meat preparations and by ensuring the weighing of the containers in which the preparation is made. Essential operations that often determine the taste quality of the dry sausages.
The I 400 indicator, an automation means
PRECIA MOLEN recommended AOSTE a complete system including the smart indicator I 400, a fully programmable terminal that includes various professional applications and that meets numerous requirements, yet remaining accessible and intuitive. Its purpose is to ensure the unfolding of the weighing  application, which implies managing, monitoring and controlling the transmitters and peripherals that are connected with it.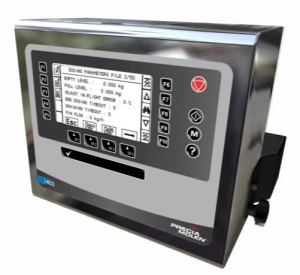 Five I 400 indicators in total operate as automation means, monitoring the various key steps of the weighing process.
Combined with an information system, the indicators collect the data that originate from the dosing of the salt and lactose, from the weighing of tanks, and from the manual weighing of manufacturing ingredients. They automatically monitor the filling and discharge of the tanks in relation with the meat net weight.
Daniel Grégoire, AOSTE's Technical Services and New Works Manager on the Saint Symphorien site, declared:
« Today, we enjoy a global centralised vision of flows. Free from manual entry, we have optimised work time and accuracy. The system perfectly integrates into our IT environment and is very stable. It helps us maintaining a constant level of quality in all our preparations. »