Precia molen
Mines and quarries: the new generation discharge gate
Mines and quarries: the new generation discharge gate
As mineral industry professionals, you are constantly looking to improve your productivity. Your equipment is of foremost importance in this goal. Our new MDG discharge gate is designed to make things easier for you.
Rapid, tightened and waterproof, it is made with the least possible amount of parts. No more complicated maintenance operations. The access to main parts doesn't need any disassembling: you can now focus on your objectives!
Three operating modes
The MDG discharge gate offers three operation modes to match your activities. In manual mode, the MDG facilitates single product delivery according to a pre-selected position or adjusted opening. In automatic mode, the MDG discharge gate functions as a slave controlled by your blending software. In semi-automatic mode, the truck driver types the weight set-point to be loaded via the Precia Molen DGC interface, which drives the loading operation.
With an encoder authorizing an infinity of intermediary positions of the sliding hatch, and so in a repeatable position, the MDG discharge gate easily adapts to any kind of  your products. It always delivers the required quantity at the desired flow rate with an accuracy usually offered only by weighing devices.
A hot galvanized steel structure
The MDG discharge gate is made of three main parts:
A welded chassis mounted under the material storage area. The opening section can be square or rectangular and defines the maximum flow rate of the discharge gate.
A trolley moving along the chassis. It bears the steel blade which position will determine the operating flow rate. Its rolls on ball bearing idlers and carries adjustable skirts for blade tightness.
A renowned drive system which moves the sliding hatch. It is composed of two rack and pinion sets, a drive shaft, a geared motor which distributes the driving torque across the drive shaft, and a pre-wired box for electrical connection to your interfaces.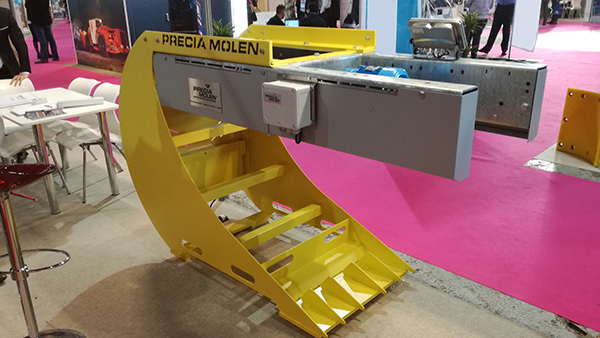 Our new MDG discharge gate is your ally, both in quarries and mining activities, for simple loading stations or blending line.
For more information, feel free to get in touch though our contact form.