PRECIA MOLEN, the industrial and sales weighing expert, will show its intelligent recycling centre management solutions at 2014 POLLUTEC EXHIBITION – LYON, FRANCE, from 02 – 05 December 2014, Hall: 2 Aisle: C Stand: 118
Waste recycling is one of the major challenges for public authorities to support the development of townships that tend to consider themselves as "intelligent" entities. A key partner of local governmental bodies, as well as waste generators/collectors and recyclers, PRECIA MOLEN offer them solutions and services to optimize the real-time operation of sorting centres by ensuring greater logistics organisation.   At the Pollutec exhibition, PRECIA MOLEN will introduce:  
Its checking control solution, CA-400 SA: an intelligent terminal with an integrated PC board

PRECIA MOLEN, in collaboration with TRADIM, a software and service provider dedicated to technical and financial waste management, offers a complete recycling centre management solution. This solution includes an access control system, that is made up with a CA-400 SA terminal, fitted with barriers, that enables identifying users with a badge so as to control and rationalize site entrance hence optimising productivity and enhancing safety. The CA-400 SA access control terminal appears to perfectly suit remote access control management in a waste recycling centre, whichever its size.
A new evolution of its industrial weighing systems: the I410.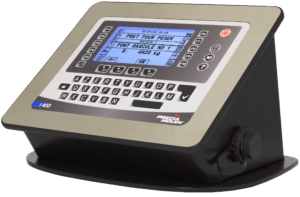 More than a mere weight indicator, the I410 is a truly    programmable terminal that integrates various professional applications and meets numerous requirements whilst remaining accessible and intuitive. It ensures the right unfolding of the weighing operation, including the management, control and command of the various transmitters and peripherals connected to it. The I410 indicator has been conceived to be as universal as possible: it can communicate with the main field buses on the market (Profibus, DeviceNet, Ethernet Modbus-TCP et EtherNet/IP) and fit any industrial process. It integrates new software applications that widely increase the terminal field action, including the management of weighbridges, a weighing system that is commonly used in waste recycling centres.
PRECIA MOLEN, a renowned expertise. Focus on Smedar's application case.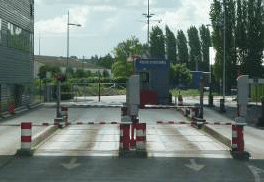 The SMEDAR, Syndicat Mixte d'Élimination des Déchets de l'Arrondissement de Rouen (Rouen District Waste Removal Federation), is fitted with a global interactive weighing solution on all its sites. Designed to optimise the processing of trucks and weighing data, this solution enabled increasing efficiency and performance thanks to a re-organization caused by the set-up of the new system.