Precia Molen India inaugurates its new premises
Mr Jean Pierre Janvier, Consul of France in South India, several ministers of the government of the Province of Tamil Nadu and several Indian MPs have honored us with their presence at the inauguration of our new assembly plant in Chennai last May. The event brought together all 75 Precia Molen India employees and their families from different regional offices in Delhi, Bombay, Baroda, Calcutta.
PRECIA SA leaders and Mrs Anne Marie Escharavil, Chairwoman of the Supervisory Board, were also present. Our main partners and suppliers have also attended the event which brought together several hundred people.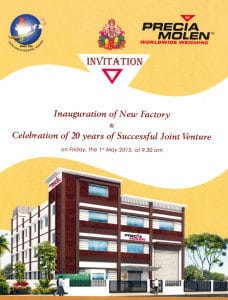 The ceremony took place in the purest Indian tradition. The ribbon cutting by the Minister of Tamil Nadu industry (Thiru.Mr P Mohan) was followed by a full tour of the new premises, the handing of many gifts and trophies and the reading of several speeches. A dance called Bharathanatyam splendidly concluded this beautiful day.
Precia Molen India, thanks to this new plant, triples its production capacity and thus expands its surfaces for the assembling of weighing instruments marketed in India, South East Asia and the Pacific region. This new building, strategically located on the road to Bangalore and close to major roads and motorways, was built according to international quality standards by a renowned architecture firm. It includes a large assembly shop as well as a set of offices for management, administrative and commercial services.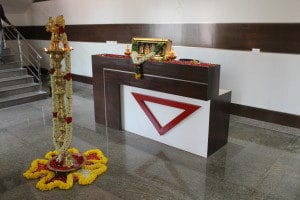 This year 2015 also marked the company's 20th anniversary and its Managing Director, Mr Ramakrishnan, retraced in his speech the impressive record of the company he has headed since its creation in 1995.