PRECIA will be present at the World Nuclear Exhibition in Paris on next October 14, 15 and 16. Many applications have been developed in the weighing field for the nuclear fuel enrichment market. The totality of the units present on the Tricastin nuclear site was equipped with instruments whose characteristics or use conditions have been as many opportunities to implement the Precia know-how:
the extended operation temperature ranges, high resolution, multiple secured links destined to inspection bodies, redundant systems for critical processes, creation of calibration tools adapted to the often restrictive access conditions to the facilities, etc…
The commercial weighing of the containers of UF6 for example has been the subject of a specific development, whose culmination was the placing on the market of a weighing machine with the characteristics of a laboratory instrument, but intended to use in an industrial environment.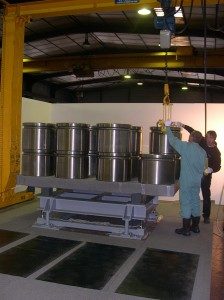 It is the first fully equipped high capacity weighing machine equipped with strain gauge load cells, certified for Class II. An increased presence in the export market led the Precia group to offer these solutions on a growing international market. From the extraction of the ore to the storage of ultimate waste, come to discover on WNE a complete range of weighing solutions, associated with a high capacity to study, design and technical monitoring of the projects.