KHT MultiScan, the Quick MasterData Acquisition Solution
An all-in-one solution that scans, takes the dimensions, the weight and a photo of the item on the system. This is the promise of the KHT MultiScan, a high-end solution, essential if your items have complex shapes or if they are textiles.
The advantages of the KHT MultiScan solution
Simplicity: an intuitive interface and a mobile platform
Adaptability: 3 models for different needs and a complete range of accessories
Multifunction: barcode reader, dimensions, weight and photo
Attributes: depending on your operations and the items you need to process on reception, an almost infinite list of logistics attributes.
Productivity: fast logistics data acquisition
Are you facing a large and constant influx of new references? The KHT MultiScan solution is for you. Easy to use, you automatically acquire the dimensions and weight of the package / product / packaging. You can also retrieve the product photo and read its barcode. All this while moving the MultiScan wherever you want, thanks to its casters that ensure easy mobility.
How does the KHT MultiScan work?
Once the object is placed on the platform, the integrated LED system takes its measurements. Data transmission is automatic, productivity guaranteed! A high-end solution for logistics providers who must constantly manage new references.
KHT CartonScan, the high-end solution for shipping
In a context where volumetric weight is becoming more and more important, the KHT CartonScan solution allows you to quickly obtain weight and dimension data, and thus be able to compare the weight and volumetric weight of the product. This is a great way for you to control your margins and know what you are really shipping. So, no surprises, you know what you have to pay.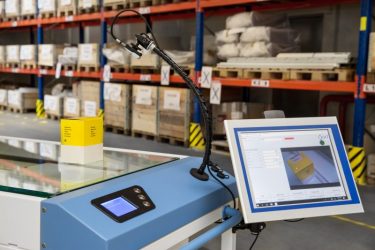 The other products in the range