Indicator I 700 weighing terminal
The I 700 indicator is a freely programmable weighing terminal approved for Trade use. The ergonomics of its touch-sensitive color graphic screen is unique on industrial weighing equipment. Its real time Linux operating system assures that the I 600 terminal is a reliable production tool.
Integration of a genuine database makes the integrity and performances exceptional for this type of instrument. The I 700 terminal can be provided with a PC type keyboard and a barcode reader for faster data input.
The I 700 Terminal is available in two versions:
I 700 – S: Stainless steel case
I 700 – C: Rack mounting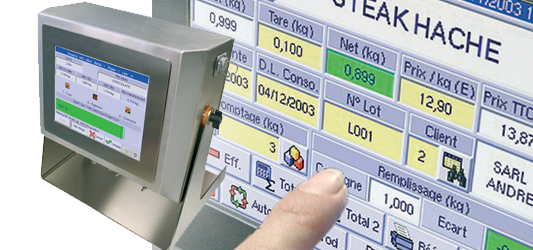 Functions
The I 700 terminal has excellent modularity, to satisfy the needs of the workstation while allowing future upgrades:
Management of 1 to 3 scales (multi-channel with summation)
High capacity static hard disk
Serial ports
USB port for removable memory (USB stick)
Analogue outputs
Logical I / O
Parallel port
Ethernet port
Connector point port for extension cards in the PC104 format
Characteristics
LCD screen, 10.4 inches, 800 x 600 pixels (SVGA), 16.2 million colours, back lit
Resistive touch pad
Static disk capacity: 4 Go
Dedicated Software
MWL - Manual Weigh-Labelling
A comprehensive weigh-price labelling and outer case marking solution.
SQC - Statistical Quality Control
A complete tool for a quantitative and quality control of the production.
MRC - Manual Recipe Control
A comprehensive solution for manual recipe management.
The other products in the range