Weighing indicator I 410
Industrial controller for weighing process
The I 410 system provides a new solution to the issues encountered when integrating a weighing function to any industrial process.
With a modular and distributed design, the I 410 system is organized around the CANopen field bus, and comprises the following 3 main elements:
a weight TRANSMITTER processing the signal close to the load cells for better immunity to electromagnetic disturbance. Some transmitter models even integrate the load cell junction box,
a GRAPHIC TERMINAL associated with a weight transmitter per measurement channel managed (up to 31 channels),
a COUPLER providing communication with the most common industrial field buses in the market: Profibus, DeviceNET, Ethernet TCP/MODBUS, Ethernet/IP and Profinet.
Additional modules:
Local or remote digital Inputs/outputs,
RS 232, RS422/485 and USB communication,
Local or remote 4-20 mA or 0-10V analog inputs/outputs,
USB flashdrive for weighing storage and traceability.
With high metrological performance (fast conversion, multi-range and powerful filtering algorithms), meeting the most demanding industrial processes.
All components, transmitters and terminals, can be installed directly in explosive area, without impacting performance while allowing communication with the safe area.
Including a PLC-oriented development workshop, compatible with the IEC 1131 standard, the I 410 system allows to deploy basic or complex applications:
"field" applications proposed by PRECIA MOLEN,
data feeding into customer's information system,
specific development design.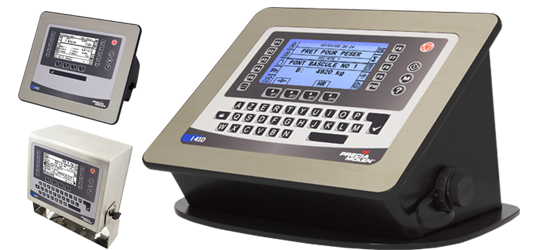 Functions
• A/D conversion direct from load cells.
• bus-based modular architecture.
• High metrological performance.
• Communication with the main existing field buses.
• Connection with client's PLC and ERP.
• Integration of standard components.
• PLC-oriented development workshop.
• All components can be installed in Ex area.
Dedicated Software
Hopper scale software I 410 ABS
The system equipped with I 410 ABS hopper scale software is the measuring and control device for PRECIA MOLEN hopper scales. The I 410 ABS system may also replace different indicators on existing installations. The I 410 ABS software may control any type of hopper scale: – hybrid with levers or 100% electronic, – with one or several filling gates.
Software for continuous dosing I 410 WBF
The I 410 WBF command control and automatic power and regulation box allows monitoring a weigh belt feeder of any type: belt, screw or loss in weight. It can be adapted to a dual-channel version.
The other products in the range