Indicators I 200 B/M Ex
The I 200 Ex indicator is adapted for weighing installations in hazardous areas. It complies with the ATEX 94/9/CE directive and may be installed in hazardous areas for risks related to the presence of dust (zone 20, 21 or 22) or gas (zone 1 or 2).
The I 200 Ex indicator power supply may be different depending on your installation and operation constraints:
Power supply with intrinsic safety outside hazardous areas: ISIS 2
An I200 Ex P1/P1-S power supply in hazardous areas.
A BATSI rechargeable battery for mobile weighing stations.
The I 200 Ex indicators range is composed of two models:
I 200 B Ex (Counting, Preset tare,etc.)
I 200 M Ex (Simple weighing : reception, shipping, transport, etc.)
Counting with or without tolerance control, Formulation, Control + -, Animal weighing, Calculation, …). Memorization of 10 preset tare values. As an option, I 200 Ex indicators are provided with a data storage device in which all weighings can be recorded, thus avoiding the addition of a control printer (tally roll printer). The I 200 Ex indicator is all 304L STAINLESS STEEL and is specially designed for severe industrial environments.
It is protected according to IP 66* rate (dust tight and resistant to water jets), and this model is ideal for satisfying hygiene and cleanliness requirements of the agronomic-food processing industry, as well as chemical and pharmaceutical industries.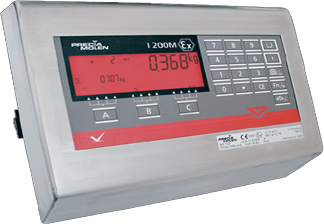 The other products in the range