Weight indicator for potentially explosive atmosphere – i 20 Ex 2-21 IECEx
The i 20 Ex 2-21 IECEx weight indicator benefits from PRECIA MOLEN's experience, expertise and research in designing an accurate, simple and ergonomic product for professional and industrial use.
It can be installed directly in potentially explosive atmospheres where there are risks associated with the presence of dust (zone 21 and 22) and/or gas (zone 2).
It has the following distinctive features :
Design and styling for industrial use (robustness, high IP rating and easy to clean).
Ease of use.
General use: connection to one or more load cells. Available in tabletop, wall, column or panel mounting versions.
High-quality construction in Grade 304L stainless steel.
FSC (Field Sequential Colour) segments technology.
Certification
• Compliant with the European ATEX Directive relating to equipment and protective systems intended for use in potentially explosive atmospheres and to the IECEx standards.
• Marking according to EN 60079-0:2012
– II3G Ex nA IIC T4/T6* Gc
– II2D Ex tb IIIC T85°C Db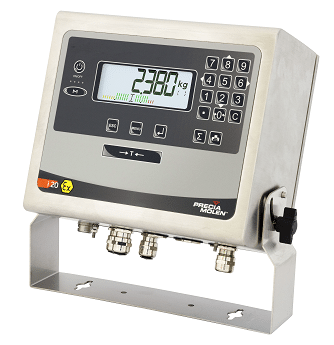 The other products in the range