Weight indicator i40 Ex 2-21 IECex – for industrial processes in explosible atmosphere
The i 40 Ex 2-21 IECEx industrial indicator is particularly adapted for process weighing with easy integration in any industrial process which includes weight measurement.
It can be installed directly in a potentially explosive atmosphere for risks related to the presence of dust (zone 21 and 22) and/or gas (zone 2).
The numerous wiring possibilities allow a direct connection of the i 40 Ex 2-21 IECEx weight interface to most PLCs and industrial PCs on the market.
Certification
• Compliant with the ATEX European Directive relative to protection devices and systems designed for use in explosible atmospheres and with IECEx standards.
• Marking according to EN 60079-0:2012
– II3G Ex nA IIC T4/T6* Gc
– II2D Ex tb IIIC T85°C Db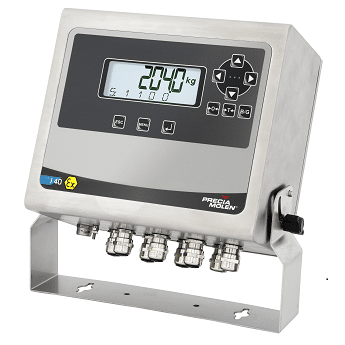 The other products in the range