Weighing indicator i25 Touch
Forget everything you know about weighing and discover a high-quality, seamless user interface!
In line with the i-series indicators, the new i25 Touch is versatile and offers eight weighing modes, capable of managing one or two weighing platforms:
calculation
formulation
batch weighing
animal weighing
checkweighing
summing
formulation control
counting
The innovation?
Its intuitive and customizable interface, which allows users to manage products, compile batch data or to get statistics in real time, all remotely. Weight matches can be controlled at a glance with the Color Weight function. The configuration can be customized very simply using the high-resolution touch screen.
The i25 Touch has two processors and is made of PRECIA MOLEN's signature premium materials.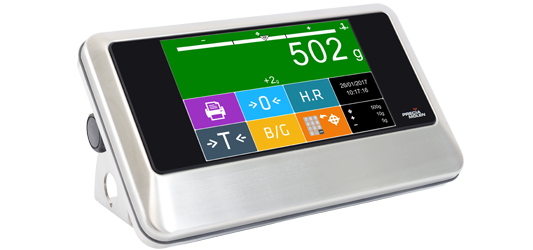 Functions
8 weighing modes
Natively multilingual
Intuitive interface
7″ touch screen
Real-time graphic data
Configurable touch screen
Connected !
USB
Bluetooth
Wifi
Weigh2Go
Characteristics
IP 66 protection, in compliance with the IEC 60529 standard
304L embossed stainless steel design
800 x 400 resolution / 262,000 colors
The other products in the range