Weighbridge indicator i35
For incoming and outgoing material on the weighbridge, the i35 indicator, equipped with a simple, user-friendly and efficient application software, can meet any totally autonomous weighing application.
Equipped with a ticket printer (sold separately), it is also able to communicate with the industrial PCs on the market and remote weight displays through multiple connections in accordance with the legal metrology aspects.
Economical and innovative, it controls two weighbridge incoming and outgoing traffic lights locally. In addition, it is equipped with an ingenious weighing locking system prohibiting the weighbridge's use outside working hours.
Its power allows it to supply up to 18 PRECIA MOLEN product line analog or digital load cells, thus allowing it to manage very long bridges.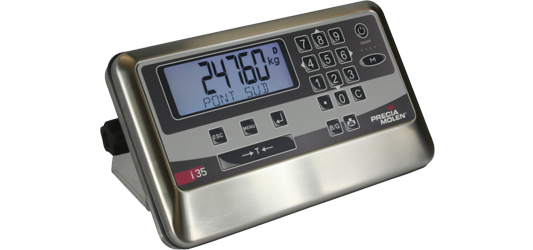 Functions
i35 Ex 2-22 – Weighbridge indicator for explosible atmosphere
can be installed in hazardous area for dust (zone 22) and/or gas (zone 2) related risks
Compliance with the requirements of the 94/9/EC directive related to the protection devices and systems designed for use in explosible atmospheres.
Marking according to EN 60079-0:2012:
– II3G Ex nA IIC T4/T6* Gc
– II3D Ex tc IIIC T85°C Dc
Metrology
Test certificate provided by a notified body according to 2009/23/EC directive related to Non Automatic Weighing instruments.
Electromagnetic Compatibility.
Compliant with the requirements of the 2004/108/EC directive.
The other products in the range