Weighing indicator i30
The i30 weighing indicator from PRECIA MOLEN is part of the measurement unit dedicated to weighbridge management. The i30 links the weight measurement that is core to weighing with the IT management tool (PCS LAN optional supply), whilst complying with all legal for trade use regulation requirements.
Performing up to 100 measurements/second, it is one of the most efficient industrial indicators in the market.
Its compact and light housing that is entirely made up of stainless steel offers IP66 water-sealing.
Its colour display that is much appreciated by users makes data reading very simple.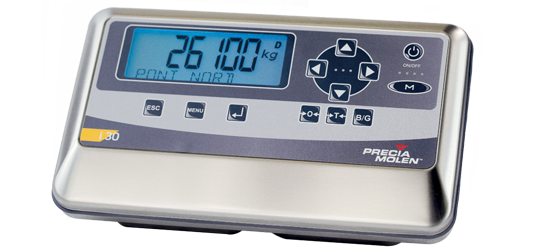 Functions
Weight display (up to 18 load cells).
Minimum threshold management.
Data storage in 300 000-record alibi memory (DSD).
FSC-LCD (Field Sequential Color) innovative technology.
Indications: Unit, stability, range.
304L embossed stainless steel – Protection IP 66.
The other products in the range