Weighing indicator i40
Weighing indicator i 40 is particularly adapted to process weighing as it easily fits into any industrial process that implies with measurement. The various connection possibilities offer a direct link with the i 40 for most PLC and industrial market PCs. With different types of housing, the indicator can be installed directly into the work environment, into a cabinet or a monitoring terminal.
Available in different versions :
Housing version
Mounting version
DIN rail version
4-load cell junction box version
The i40 indicator is also available for industrial processes in explosible atmosphere (Download the technical informations about the Ex version)
Continuous weighing, continuous dosing, EX… The i40 adapts to your needs and your environment according to its software.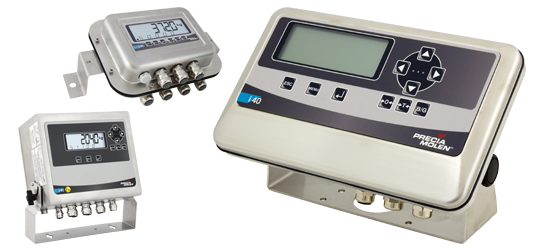 Functions
FSC (Field Sequential Color) segment technology
Configurable 7-colour backlighting
Text area with ten 8-mm characters
Light indicators for metrology and field bus operation
High angle of vision and contrast
Characteristics
4/6 wire connections
Up to 100 measurements/second
RS232/RS485 configurable port
Dedicated Software
i40 EDU
The EDU application offers the possibility for the i40 indicator to manage a simple dosing process whilst loading or unloading. The i40 EDU indicator comes in all the housing versions of the i40 for an installation tailored to all work environments.
i40 BS (continuous weighing)
The BS application is designed to measure the flow rates of any bulk product, without capacity limit. It integrates a weight measuring card and an acquisition card of the belt or screw conveyor speed.
The other products in the range